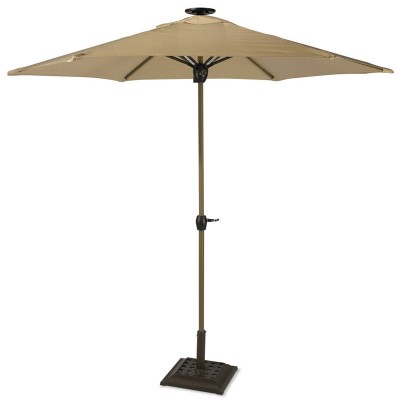 The Solar Powered Lighted Patio Umbrella is great for those who love to spend time outdoors, during the day the umbrella provides shade, or protection from any annoying short showers, then through the night it provides you with light helping you to enjoy the cooler evenings.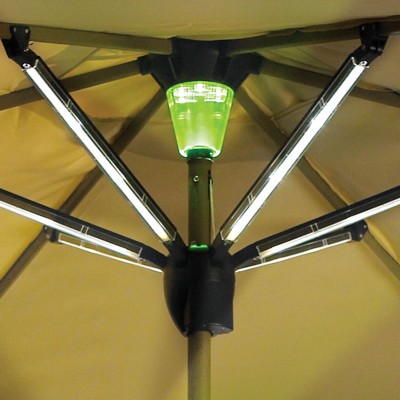 The Solar Powered Lighted Patio Umbrella is a robust, weatherproof umbrella that uses a solar panel and LEDs to provide you with bright light under its canopy. There are 24 LEDs built into 6 light strips which run along the 6 spokes of the umbrella, these provide a pure bright light spread out to illuminate the area under the umbrella well. The umbrella has an extremely efficient solar panel built into the top of it, this provides the energy that is stored in its internal rechargeable Ni-Mh battery. When fully charged the umbrella is able to provide you with up to 8 hours of illumination.
The Solar Powered Lighted Patio Umbrella has a 2.7 m (9 ft) canopy constructed from a durable polyester which has been treated to be both UV and water resistant. The pole and frame work is made from powder coated aluminum, which allows them to be strong and corrosion resistant. The umbrella has an aluminum crank to help make opening and closing the umbrella as easy as possible. The umbrella will fit a standard patio umbrella base, there is not one included.
The patio umbrella allows you to make more use of your patio or outdoor area. It can provide shade from the sun, protection from the weather, and at night illuminate the area to allow you to enjoy long cool evenings outdoors, without the need for finding somewhere to place a powerful solar light. Because the umbrella uses eco-friendly solar energy it is easy to use and causes no long term running costs.
The Solar Powered Lighted Patio Umbrella is just $249.95.