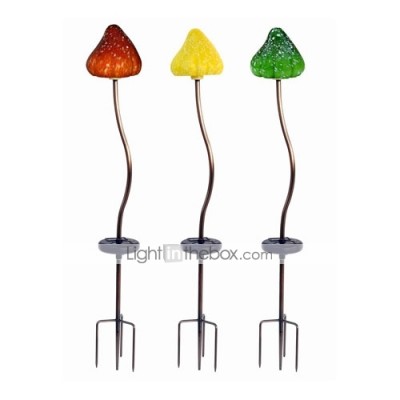 This Solar Powered Mushroom Shaped LED Light is a great way to add a touch of whimsical fantasy to your garden or outdoor areas. The solar powered light will cause the mushroom shaped cover to glow, creating an beautiful feature for your outdoor space.
The Solar Powered Mushroom Shaped LED Light allows you to create a fantastical feel for your outdoor area. The light is available in three colours, orange, yellow and green. The mushroom shaped glass light uses LEDs to produce its glow and is attached to a brass coloured iron pole, with a solar panel attached. The end of the pole features a 4 prong spike to allow it to be placed easily into the ground.
The whimsically shaped light is great for use hidden away within a boarder amongst plants, to be discovered by those who are in your garden, or even as a focus point in a lawn. The light is easy to install and requires no complicated wiring, simply place it into the ground and let its internal 600mA NI-Hi rechargeable battery charge from the sunlight. Some thought must be given when placing the light to ensure that it will receive enough sunlight to allow it to illuminate at night. When the battery is fully charged the light should run for 6-8 hours.
Solar Powered Mushroom Shaped LED Light can add a touch of fantasy to your garden, without causing any worries over long term running costs, or over wiring.
The Solar Powered Mushroom Shaped LED Light is around $76. Shipping is to anywhere in the world, and can be purchased in Euros or Pound Sterling too.