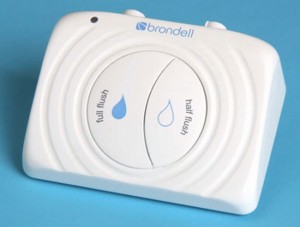 If you don't have the money to upgrade your toilet cistern every few years, you've probably got a pretty water-inefficient toilet. Replacing the toilet is not a minor job, as a change in tanks might require the need for new tiles or wallpaper. A lot of hassle, expense, and not particularly eco-friendly due to the re-decorating it would require. However, there's now a way of saving toilet water using your existing tank, by installing a variable flush system, called the Perfect Flush.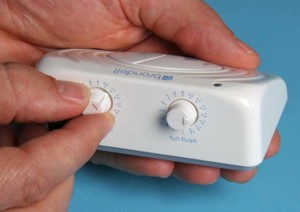 The Perfect Flush eco gadget is an affordable electronic device costing just $100, which retrofits onto existing toilet tanks. The device is simple enough to be installed by any DIY enthusiast as it uses existing fixtures and fittings on a toilet to control how much water is used per flush. This means you can choose between a quick and a long flush depending on what business you do in the loo! (I was trying to be discrete…..).
Just installing the device will save between 30% to 50% of the water needed to flush the toilet, meaning you save money straight away. In just 1 to 2 years, you earn your money back with Perfect Flush. So you'll save money, as well as save water, which are both great reasons to use a water-saving widget.
Source: Perfect Flush