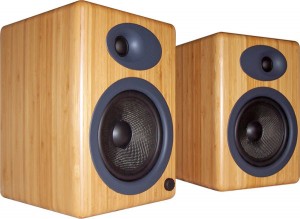 The Audioengine A5N Speaker System is a high-end music speaker product that allows you to listen to your music from your iPod, MP3 player, Airport Express, LCD TVs, DVD players, PDAs, laptops and more. What's interesting about this product from an eco perspective is that it uses eco-friendly technology, highly sustainable bamboo as part of the material, is completely lead-free, highly energy-efficient and packaged in minimal but recyclable packaging.
The Audioengine A5N speaker unit is essentially an audio amplifier with a built-in speaker and sub woofer system. The speakers use bamboo as a raw material to remove the need for slow-growing hardwoods or nasty chemical varnishes and finishes. The acoustic properties of bamboo are being exploited to create a premium quality product that still does it's bit for the environment too.
The speaker unit can connect to a variety of devices, but is also capable of charging USB-based devices such as the iPod. The kit comes as 2 speakers, where the left speaker has all of the connections and does the amplification for you.
Source: Eco-Digital