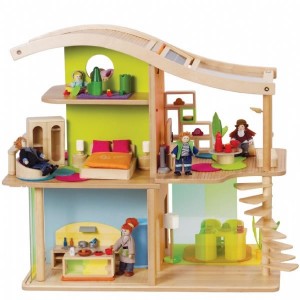 Most of the eco toyss that I've reviewed probably have more appeal to the boys than the girls, simply because boys prefer gadgets a bit more than girls do. However, here's a toy aimed a little more towards girls, namely a Solar-Powered Bamboo Doll House. The dollhouse is made from sustainable fast-growing bamboo, which has been treated with a light water-based stain and then polished with natural beeswax
The large solar panel housed in the roof collects enough energy to power 5 LEDs, of which 3 are in the media room, and one in each of two rooms on the first floor. The whole house features 9 different rooms including a spiral staircase. All of the furniture has been made of bamboo too.
The furnishings include beds, sofas, bookshelves, tables, and chairs, pillows, rugs, and children's' toys. However, no dolls are included. The dollhouse is designed for children aged 3 years or older. The dollhouse is available from November 2009 and is priced at $499.