Just Soap is pure soap-free from any cosmetic chemicals and toxins which are harmful for your health. Soaps and bod lotions come in direct contact with the skin for an extended period of time and this makes your exposure to harmful chemicals all the more higher. The used water contains all of these chemicals which are often let out into the environment. This brand of pure soap is 100% organic and is completely eco-friendly-making it safe for your skin and also for the environment. Another unique feature in the manufacturing process which needs to be emphasized is that the makers blend it by bicycle-as blending is a time-consuming process that requires a lot of power. A special device which is driven by a pair of pedals rotates the blenders to create the soap.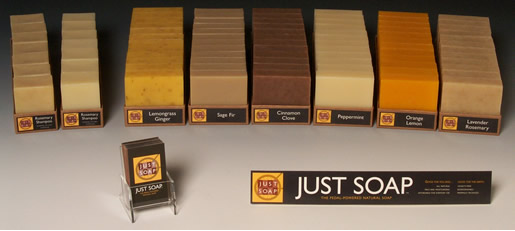 The soap contains the purest of olive oil, coconut and palm oils and special herbal ingredients inaunique formulation that gives you the very best of nature. Individual soap bars are cut in a wooden press and are cured for almost two months to allow the ingredients to settle down completely. The soap is mild and is contains natural moisturizers. It conveniently pricedwithout the often heavy pricing associated with eco-friendly products that we often come across. The bars are made from natural glycerin and do not use any chemical hardeners. They are also never tested on animals but should be used with care in people with sensitive skins. You get to choose from different fragrances such as Lavender, Rosemary, Cinnamon, Sage, Lemon peppermint and a special Almond cornmeal extract along with a special formulation for gentler skin types. They also have a collection of salves as well as lip balm apart from a cool range of organic Tees made from bearing their brand.
You can also check out a shampoo bar which is made from almond, jojoba and castor oil extract. Their range is certified by Bay State Organic certifiers which stand as a testimony to its pure ingredients.
You can buy them online at their website by accessing the below link. They are located in Ashfield Massachusetts.