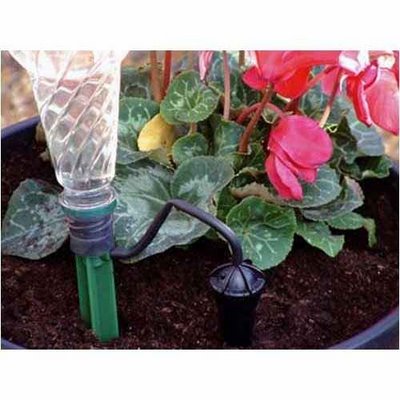 The IRISO Water Dripper is a system that helps you to convert an old plastic bottle into a device to keep your plants watered. The device can be set to a number of drip rates to allow it to be compatible to a range of plant sizes and by using a large bottle you can ensure your plants are watered even if you are away for weeks.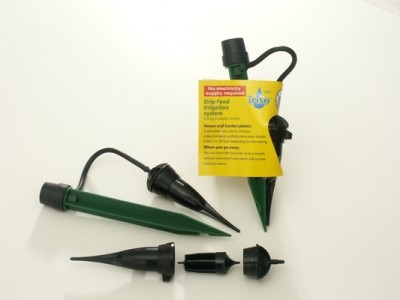 IRISO Water Drippers are an efficient system for delivering your houseplants, or garden plants, water 24 hours a day even when you are away. The drippers help you to turn regular plastic drinks bottles into water storage tanks to supply the plants with constant water. The enclosed system supplies water directly into the soil, helping to prevent the water from evaporating. It does this without using any electricity or access to the mains water supply as it uses gravity to provide the plant with the water from the bottle.
The flow of water to the plant can be adjusted to suit the needs of the plant and can be anything from 150 ml a day to 1.5 ltr a day. This watering system helps you to re-purpose plastic bottles into something of use, the system requires that the mouth of the bottle is a standard one (standard to both the .5ltr and 2ltr bottles commonly purchased) but any size of bottle you can find with this can be used. This allows you to attach a bottle big enough to provide your plants with water for a long time, usually for anything from 20 days to 2 months, perfect for when you are away on holiday. The system helps to prevent overwatering and encourages more efficient use of water. It achieves this as there is no loss of water through evaporation nor is water being used in areas it is not required.
The IRISO Water Drippers costs just £3.97 for a single dripper or £17.99 for a pack of 4 dripper kits. These kits are highly respected and have got fantastic reviews.