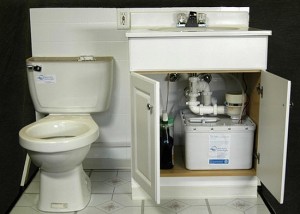 The Sloan Valve Company has come up with a new greywater kit that installs in your bathroom to recycle your water. The Sloan AQUS Greywater System captures water from your sink and stores it in a small tank. The toilet's flush tank is then filled up from this reservoir.
As the water is captured, it is filtered to remove most of the nasty stuff from the sink water. Each time the toilet is flushed, water is pumped into the cistern ready for the next flush. Conservative estimates indicate that this gadget will save 2-person homes around 5000 gallons of fresh water a year. You don't need clean water to flush a toilet!
It's a simple system. However, there are some slightly more complicated systems that take virtually all wastewater in the home and store it in a water tank for watering the garden or for flushing the toilet.
Source: EcoFriend