By Dev on September 21st, 2012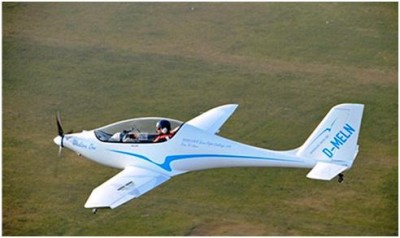 Considering the Go Green technology and getting out cars to be electric, I guess it was only a matter of time before planes also gone electric. NASA has currently sponsored a CAFÉ green Flight challenge and Elektra One is the PC-aero entry, a single-seat aircraft and it has completed its first flight of 500 meters high and quickly landed on the ground. Elektra one has been powered with powerful electric batteries which make it capable to fly fast and land quickly when batteries are near to end the charging. On its second flight, Elektra one stayed in the air for about half hour.
It is a single passenger airplane which you can buy and waiting for its day in the sun at an air show in Wisconsin, where it hopped to show the future of zero-emission carbon aviation for the pilots. The nearly silent propeller-driven plane with a sleek, glider-like design is powered by an onboard battery that has sufficient juice for three hours of flight and a range of about 250 miles. The 220-pound, 26-kilowatt battery is fueled in a solar-charging hangar.
The chief executive officer of PC Aero, Calin Gologan told "Our concept is not to bring on the market an aircraft only, it is to bring a system and this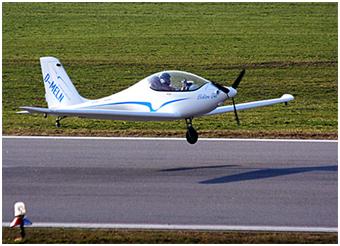 system is the aircraft, plus the hangar, plus the energy," PC Aero is a German based aero making company which believe in Green technology to revolutionize the world and this Electric craft is one example of this. The company plans to start work next year on an updated version of the plane that incorporates solar panels on the body and wings of the 440-pound aircraft that will extend its range by up to 30 percent when the sun is shining.
The solar cells seen on the plane at EAA Air Venture Oshkosh are non-functional copies, explained Ben Santarris, a spokesman for Oregon-based SolarWorld, which is partnering PC Aero on the project. The plane made its inaugural flight this spring in Ausburg, Germany. Over the next weeks, Elektra One will get a new variable pitch propeller and a retractable landing gear. This will give the electric plane better flight performance. Specifications of Elektra one Electric plane including one seat, 300 kg weight, 6,4 m2 wing surface, 16 Kw engine power, 100 kg batteries, payload of 100 kg, 3 hours maximum endurance.  This jet has best propeller efficiency of 90 percent and has integrated new certification procedures.