By Dev on August 21st, 2012
Wastes management can be taken effectively if process of recycling is continuously followed. Wood made docking stations from recycled materials are one of the innovative items available today. The docking stations made from reclaimed or recycled materials are all the rage these days.
Why spend money on mass produced items when you can do the same on unique products? Even if you end up spending a tad more than what you've set aside, at least you'll get yourself a one-of-a-kind unit that your friends will envy. Like these docking stations by RockAppleWood that are being sold on Etsy. They're made from wood salvaged from California, discarded due to expansion plans that require trees to be chopped down.
Wood, once an abundant material, has now dwindled to embarrassing numbers. Countries are scrambling to regain their green cover but trees take time to grow. Owing to development and expansion of towns and cities, large swathes of forests are cleared every day. Illegal wood felling is also undertaken, leading to even more loss of forest cover.
Reusing discarded or fallen wood is, thus, beneficial as you don't need to cut down living trees to create products. RockAppleWood works along the same principle and the creations are beautifully made. The makers' products cater to iPhone and iPad docking stations and even have room for speakers to be installed. The carefully retouched wood is given new life and is polished to sheen for an upmarket feel.
Since the fallen wood used isn't chopped up, the results are very natural and the designers make use of the material's natural grooves to add design to the products. A few others have been carved in the shape of hockey sticks to provide a unique décor item that would look perfectly at home on the living room mantle.
Depending on the level of craftsmanship involved, RockAppleWood prices its products from as low as $50 and upwards to over $700.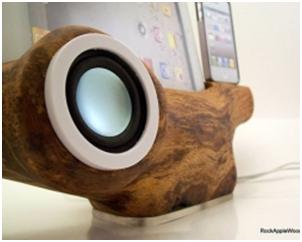 What you can be assured of is uniqueness with the uncarved pieces in particular retaining their individuality.
Companies have been striving hard to maintain their contribution for green environment through different environmental policies or actions taken by them. Ranging from BMW i3 environmental friendly cars to solar powered lawn mowers and gadgets chargers, the main concern is to keep away the effects of green housing and aware the general public about gadgets which should reduce their carbon footprints. In future, more surprising gadgets are near to launch and all the efforts taken for protecting our environmental will be beneficial to our next generations.