By Dev on September 20th, 2012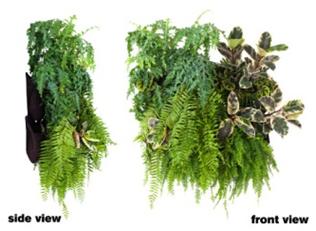 Everyone around the earth is going around a crusade these days to adopt the go green phenomena and save our environment and conserved natural life.  After all, there not much of ecosystem of our planet that left or remained behind. Woolly pockets are soft-sided, breathable and made from 100% recycled plastic bottles in United States. You can create a living painting or a whole living wall by hanging one Wally Three or a whole gang. Simply use the hardware that is included with your Wally to hang – then plant herbs, tropical, succulents, natives or any of your favorite plants! Hanging the Wally Three is as simple as hanging a painting, and attaches easily to wood, concrete, masonry and chain link.
The Mini Wally One is made from 100% recycled plastic bottles in the USA, which diverts plastic away from landfills. The Woolly Pocket also allows you to grow edibles and other plants to keep your home green and healthy.
To make gardening simple and convenient, as well as to green the earth is the mission of Woolly Pocket Gardening Company.  We should also pay thanks to their new Woolly Pocket garden containers. These garden containers are able to empower the average consumer to create living walls in their home or office right there on the spot without having to go through the tedious planning sessions that include making sure the drainage system works properly among others. In short, these Woolly Pocket Garden containers aim to create an instant living wall.
It boasts a revolutionary design which comes with breathable sides that are able to release excess moisture and aerate soil with a waterproof lining. This in turn will help keep walls and floors dry while your plants remain moist. Woolly Pockets are so easy to use; even if you've "murdered" a fair number of plants in the past, this might just prove to be the breakthrough you're looking for. Regardless of whether you want to green the inside or outside, Wooly Pocket will work just fine. They are also lightweight and can be folded flat storing and convenient to be replaced to other places.
The breathable container of Woolly Pocket breathable garden containers will leave the soil to aerate naturally, which in turn reduces the need to drain the containers while helping conserve water to further the green cause. In order to stress just how green Woolly Pockets are, they are made out of recycled plastic water bottles that are then fabricated into a wool-like material in United States.