By Dan (EnviroGadget Writer) on July 30th, 2009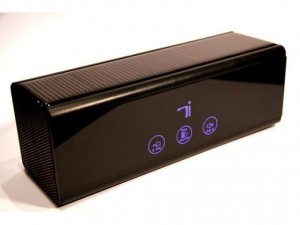 Devotec Industries have launched a solar-powered Bluetooth-enabled speaker gadget that allows Bluetooth-enabled phones to be connected wirelessly to the speakers. The speakers work with any Bluetooth-enabled music playing device, typically found in mobile phones including the iPhone. For devices without Bluetooth, you simply plug in the included 3.5mm stereo cable into the headphone socket of your music player.
The integrated 150mA solar panel can charge the internal 1500mAh Lithium ion battery in around 12 to 24 hours, and the battery will last between 4 to 8 hours depending on how high you set the volume. You can also charge the internal battery via a USB socket or AC adaptor in just 4 hours. The Solar Sound has two 2W speakers, and you can connect the speaker unit to any Bluetooth phone or MP3 player supporting the A2DP and AVRCP profiles.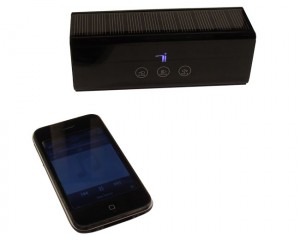 If you receive a call on the phone whilst its connected to the speakers, you can also use the speakers as a handsfree kit thanks to a built-in microphone. The speakers also feature a touch-screen panel, so that you can remotely control your music, including fast forward and rewind buttons, as well as the volume control.
The speakers are currently available for £49.99 plus postage in the UK (usual price of £59.99), or $79.99 plus postage in the US (usual price of $99.99) directly from the manufacturer's website.