By Dan (EnviroGadget Writer) on July 3rd, 2009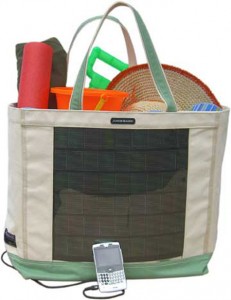 The Juice Bag Solar Beach Tote is essentially a reusable tote-based bag with a large solar film panel on the side of it. The juice bag has a universal female car charger socket so that you can connect your devices to charge them up. The solar panel outputs a maximum current of 325mA at 12V, which will charge most devices in 1 to 4 hours.
The solar panel itself measures 300mm x 300mm (12″ x 12″), and the bag measures 480mm x 380mm x 280mm (19″ wide x 15″ high x 11″ deep). Inside the bag is a special pocket which can be used to hold small gadgets such as mobile phones and PDAs. The bag has been designed to be very robust, with heavy duty cotton webbing handles, a waterproof support for the bottom of the bag and a specially designed frame too.
I would have preferred to see a USB socket rather than the car charger socket, as that's much smaller. However, that would involve some electronics to regulate the voltage so that your gadgets don't blow up! What's interesting is that the Reware SolarSistem solar panel is removable, meaning you don't need to use it specifically with your bag.
The bags are pretty pricey at $249.99, but that's because the solar film panels are still expensive to make, and are only just coming down in price. The manufacturer Reware has a whole range of solar panel bags which are worth checking out.