By Anita (EnviroGadget Writer) on February 1st, 2010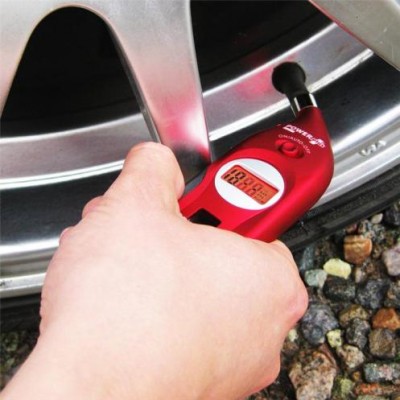 The Solar Powered Digital Tyre Pressure Gauge, named The Pelican and made by Powerplus, is a small lightweight device for checking tyre pressure. Designed to be ready for use at any time, with a light to aid nighttime usage, this digital tyre pressure gauge helps you to have the correct pressure in your tires.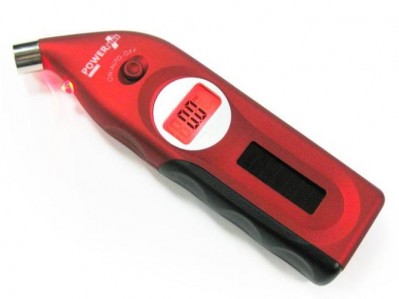 The Powerplus Pelican is solar powered so it is ready for use at anytime without worrying about batteries, though for nighttime use it runs off its battery (it comes with two 3v CR2032 batteries). The Digital tyre pressure gauge is accurate to 0.07 bar and has a pressure range of 0.15 bar to 10 bar. The tyre pressure can be displayed in bar, psi, kPa or kg/cm², so no matter what measurement you are used to this device will help you. Having the correct tyre pressure can help save on fuel costs by ensuring your tires have correct amount of traction. This allows your engine to work as energy efficiently as possible, as with too little traction it overworks finding grip, and with too much your engine works hard to overcome the increase in friction.
The Powerplus Pelican also has a tyre thread depth gauge built in, so while you are checking your tyres' pressure you can keep an eye on how much wear you have left on them. It has an orange LED light to help illuminate the tyre valve and the LCD screen for the digital read out has an orange back light for nighttime use. These light sources give off a soft red-ish light which is meant to help you maintain your night vision.  Weighing 50g and measuring 14cm x 3.8cm x 2cm (5.6in x 1.5in x 0.8in) the device is a convenient size to be kept in any car.
The Solar Powered Digital Tyre Pressure Gauge is available for £11.99 plus delivery from Nigel's Eco Store.