By Dan (EnviroGadget Writer) on January 30th, 2009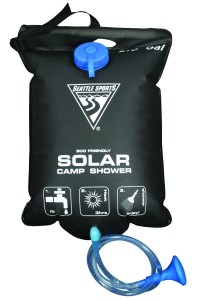 It's probably just a little too cold in the UK to be considering going camping, but if you're planning your spring camping holiday, then the PVC-Free Eco-Friendly Solar Camping Shower might just interest you. As far as eco gadgets go, the solar shower is really simple. Essentially the black colouring of the bag absorbs solar energy which heats up water inside the bag. When you want a shower, you have completely free heated water!
The water will not be super hot, but it will surprise you just how hot it can be. And the great thing is, you're heating the water in a completely environmentally friendly way.
In addition to eco-friendly heated water, this solar shower has been designed to be completely free of nasty chemicals. The outer material does not contain chlorine, azo dyes, or PVC. And no heavy metals, dioxins or phthalates are produced during manufacture. Actually, if you were to burn the bag, it would only release carbon dioxide and water vapour!
Available for around $22, the shower is available in 2.5 gallon, 4 gallon and 5 gallon capacities.