By Anita (EnviroGadget Writer) on August 11th, 2010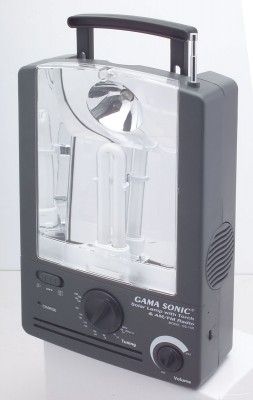 This Solar Lamp with Light and Radio allows you to have a portable, environmentally friendly rechargeable light source which is perfect for when you are out and about in activities like camping. The radio allows you to listen to both AM and FM stations while the light has two methods to provide you with the lighting you require.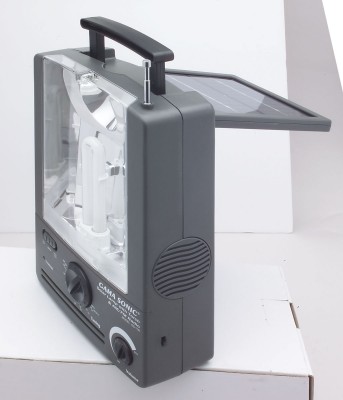 This Solar Lamp with Light and Radio by Gama Sonic has an adjustable solar panel. This allows you to be able to take maximum advantage of any natural light around to better charge the device. The lamp has an internal rechargeable Ni-Cd 600mAh battery which when fully charged should provide you with around 6-7 hours of lighting. The lamp will require charging daily to be effectively used each night when out. This can be achieved either by placing the light in a brightly lit area or it can also be charged through an AC / DC power adapter that allows it to be charged from mains electricity. The lamp has a charging indicator to alert you to when the device is successfully charging.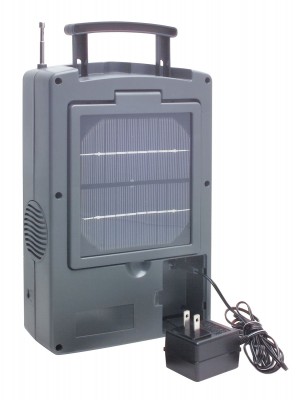 The Solar Lamp with Light and Radio has a handle attached to allow you to both carry the device easily and to be able to hang the lamp up at night. The lamp has two lighting functions, it has both a PL lamp light to provide a powerful light source when required and also a smaller upper torch light which is suitable for purposes such as using the light to read by. The device has an AM / FM radio built-in allowing you to have music or weather reports and news while you are out and about. This solar lamp and radio is a compact device suitable for use when outdoors. Designed to be robust for travel, the lamp allows you to make use of the day's sunlight to provide a night's lighting and entertainment.
The Solar Lamp with Light and Radio costs just $48.97 and qualifies for free shipping too!