By Anita (EnviroGadget Writer) on April 25th, 2011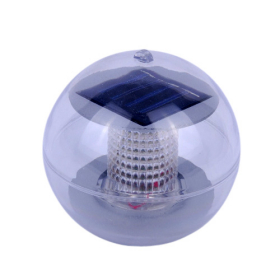 This Solar Power Water Floating LED Light makes a great addition to any outdoor pool, pond or outdoor water feature. The light can change colour as it floats in the water adding a beautiful colourful illumination to your outdoor area.
The Solar Power Water Floating LED Light has been created to provide a light that is capable of floating on the water, creating  beautiful lighting effects for your outdoor water areas such as pools or ponds. The light can be placed on the ground if need be, positioned on patios, boarders or anywhere you require it.
This floating light does require access to sunlight to allow it to charge its internal rechargeable 600mA Ni-MH battery to provide you with illumination once dusk falls. When the battery is fully charged it can provide you with over 8 hours of light. The light measures 11 cm x 11 cm x 11.5 cm (4.33 in x 4.33 in x 4.53 in).
The Solar Power Water Floating LED Light is easy to use and as it is powered by solar energy there is no worry over any complicated wiring or long term running costs. The light provides you with an attractive talking point for any outdoor events during the summer months.
The Solar Power Water Floating LED Light is around £12.50.
1 Comment
Alternative Energy, Home Gadgets, Lamps and Lights, Outdoor Eco Gadgets, Solar Powered Gadgets
floating LED light, floating light, LED light, solar lighting, solar panel, solar powered floating light, Solar Powered Gadgets, solar powered garden light, solar powered led garden light, solar powered LED light