By Anita (EnviroGadget Writer) on October 21st, 2010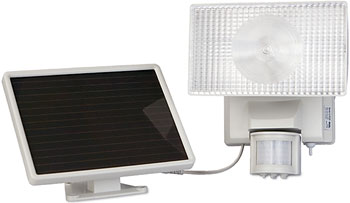 This Solar Powered Floodlight provides security to your home. The motion-activated floodlight helps to illuminate any possible intruders, which helps both alert you to their presence and scare them away while not running up any large energy bill costs.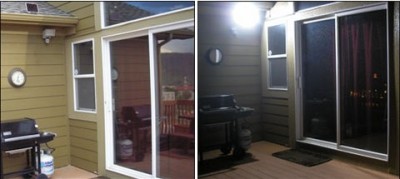 The Solar Powered Floodlight is suitable for any security lighting needs, due to it using solar power it can be placed where many other security lights cannot, in areas that perhaps do not have any access to electricity. The only limitation is that the solar panel will require access to sunlight to charge the battery to allow the light to work at night. The solar panel is supplied with a  4.57 m (15 ft) cable which allows you to place the actual spotlight in any spot, even a shady one. As long as the solar panel can be placed within the cable distance away and have access to sunlight the floodlight will provide you with powerful illumination when triggered.
The solar panel charges the 6V 4Ah sealed lead acid rechargeable battery during the day. Once this battery is fully charged it can allow the 80 LED floodlight to provide up to 360 1 minute lighting triggers. The intensity of the light is said to be the equivalent of a 40 watt halogen floodlight. The adjustable motion sensor can sense movement up to 10.67 meters (35 feet) away within a 180 degree detection zone. The sensitivity of the light, the duration of illumination and its sensitivity to daylight can be adjusted.
The floodlight is supplied with the mounting screws and instructions required to install it quickly and easily. The floodlight is fully weatherproof and can be supplied in two colours, in black or in white. This solar powered floodlight provides a bright light which can illuminate your garden or any other area you require a motion light for. As the floodlight uses eco-friendly electricity generated from a solar panel there is no complicated wiring to install it, nor are there any long term energy bill costs. The Solar Powered Floodlight can be purchased from $95 plus delivery.
0 Comments
Lamps and Lights, Outdoor Eco Gadgets, Solar Powered Gadgets
floodlight, garden lighting, led floodlight, LED light, motion detector, motion sensing LED, solar lighting, solar panel, Solar Powered Gadgets, solar powered garden light, solar powered lighting, solar powered motion sensing LED light, solar powered security floodlight