By Anita (EnviroGadget Writer) on February 25th, 2011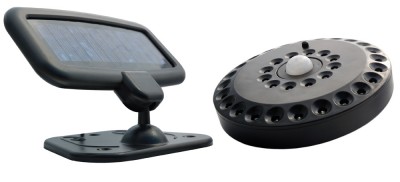 The Solar PIR Porch Light is a motion activated solar powered light, fantastic for lighting doorways or any area mains powered lighting would be hard to install. The light is a great way to provide motion activated lighting for any area without the worry of complicated wiring or high energy bills.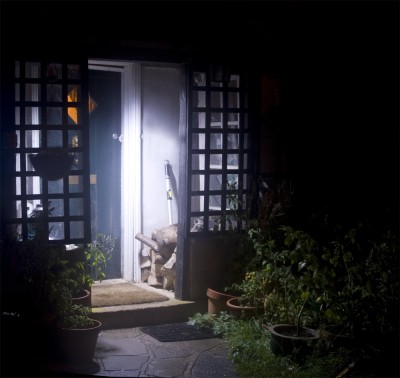 The Solar PIR Porch Light is able to detect any movement with its 360 degree PIR sensor, this triggers the light to illuminate for up to 30 seconds. The sensor has a range of around 2m – 6.5 m. The light uses 36 super bright LEDs to produce a powerful lighting effect, ensuring you can see the area you wish to illuminate clearly. The solar panel for the light can be installed away from where you wish the light to be, it is best to place it in a spot that receives decent sunlight during the day.
The solar panel is connected to the light  unit via a 4.8 m cable.  The energy collected by the solar panel is used to charge the 3 AA rechargeable Ni-MH 900mAh batteries. When the batteries are fully charged they can illuminate the light for up to 8 hours. Along with the batteries, the screws, wall plugs, mounting brackets and full instructions are included with the porch light.
The Solar PIR Porch Light is a great way to illuminate your outdoor areas, especially porches or pathways where a motion sensor is advantageous. The light can also be used to light outbuildings such as sheds, garages or workshops. The porch light is easy to install and involves no complicated wiring or long term running costs due to it running from solar power.
The Solar PIR Porch Light is just £35.74 with free delivery.
0 Comments
Alternative Energy, Home Gadgets, Lamps and Lights, Outdoor Eco Gadgets, Solar Powered Gadgets
garden lighting, motion activated LED light, motion sensing, motion sensing LED, motion sensing led light, motion sensing porch light, porch light, solar lighting, solar panel, Solar Powered Gadgets, solar powered lighting, solar powered motion sensing LED light, solar powered motion sensing porch light