By Anita (EnviroGadget Writer) on October 22nd, 2010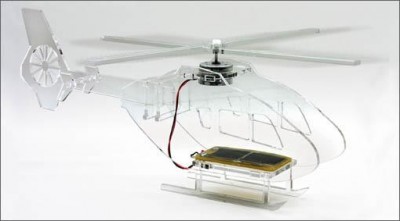 The Helicopter Kit is a solar powered model made from perspex. The helicopter is supplied in kit form, allowing you to construct the helicopter yourself. The helicopters blades will spin when the solar panel is placed in an area with light.
The Solar Powered Helicopter Kit has been created by Solar Technology. The kit uses perspex to construct the model, each piece has been laser cut to ensure precision to allow you to easily slot the pieces together. No glue or tools are needed to construct the helicopter, the kit comes with detailed instructions on how the pieces are put together to build the working model. The helicopter, once built, needs to be placed in a bright spot for the solar panel to convert the light into electricity. This electricity is used to power the motor which causes the blades of the helicopter to rotate.
The helicopter kit can be used as an educational aid to help teach children about solar power. Due to the model being supplied in kit form the child can get involved with it fully, learning how the parts go together and visually experiencing how effectively light energy is converted into electrical power to turn the blades. The solar panel would work best in bright sunlight, this is recommended when teaching a child the abilities of solar energy.
The panel will though provide energy to turn the blades if it is placed under a bright artificial light, this can help to demonstrate how effective solar panels can be.  The Kit is suitable for ages 6+, though this is mainly down to the small parts in construction, a younger child can still enjoy watching the model and learning about solar power with an adults guidance.
The Solar Powered Helicopter Kit is yours for just £21.95, and makes a perfect educational and eco-friendly gift.