By Anita (EnviroGadget Writer) on September 22nd, 2010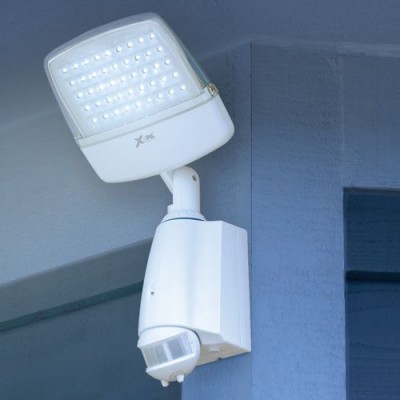 The 45 LED Solar Spotlight is a powerfully bright motion triggered light that is powered through eco-friendly solar energy. By using multiple LEDs to produce the illumination the spotlight is able to produce as strong light source from very little electricity.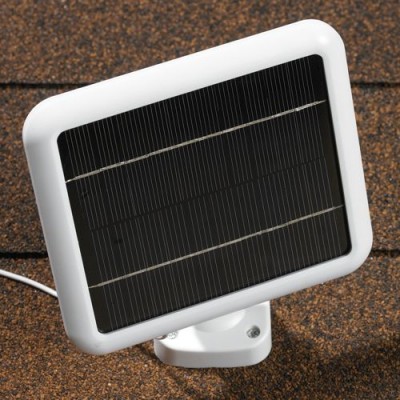 The 45 LED Solar Spotlight is able to achieve a brightness of 210 lumens. This illumination is produced whenever movement is sensed after dusk, the spotlight can be adjusted to allow it to be able to sense movement in an area between 3.05 m – 18.29 m (10 ft – 60 ft). The light itself has a range of motion to allow you to set it to light the area you wish, it can be swiveled 180º and can be tilted up to 120º. The length of time the light remains on once movement has ceased can be set to suit your needs, from 5 seconds to 3 minutes.
All the brackets and screws required to set the spotlight and solar panel up are included. The solar panel comes with a 4.57 m (15 ft) cable. The cable allows you to place the actual spotlight in any spot, even a shady one as the solar panel can be placed a distance away in a sunny spot to take full advantage of any daylight.
The internal rechargeable lithium-polymer battery can provide illumination for up to 14 hours once it has been fully charged. The light unit measures  39.4 cm x 18.6 cm x 10.2 cm (15.5 in x 7.33 in x 4 in) and the solar panel unit measures  19.1 cm x 17.8 cm x 7.6cm (7.5 in x 7 in x 3 in). This solar powered spotlight provides a bright light with which to illuminate your garden or any other area you require a motion light for. Running totally from solar power there is no complicated wiring to set the spotlight up nor long term energy bill costs.
The 45 LED Solar Spotlight is yours for just $99.95.