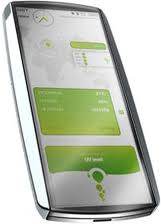 In a world full of things that could harm the environment you may think that your phone would be the last thing that would harm the environment. Actually a cordless or cellphone can harm the environment. Phones are often crafted with materials that are harmful for the environment and the batteries placed in these phones are harmful as well. Many people throw their old phones away without realizing that they are harming the environment. Thanks to recent inventions eco phones are becoming more common.
What Is An Eco Phone?
An eco phone can be a broad term for a broad variety of different phones. An eco home phone is typically one that is made up of different materials that are either biodegradable or made up of recycled materials. They usually come with less lighting or a LED light feature and an energy saving plug in. They will also come with a list of helpful hints to help you become greener. A cellphone can be eco friendly if it uses recycled materials and has green features such as a lower light level and lower sound levels. Some cellphones as well as home phones are coming with solar powered chargers for the batteries. This will cut costs on electricity and help to bring down the strain on the environment.
Different Types of Eco Phones

There are many different types of eco phones out there. You can find simple eco home phones or cellphones that have eco friendly battery chargers with them. Here are a few eco phone products that you can choose from.
Eco Friendly Home Phone. A home phone that is energy star rated and will help you to save your money.

Solar Powered Bluetooth Phone Kit For Car A charging station that is completely solar operated for your phone.

American Red Cross Solar Charger for Cellphones Approved by the American Red Cross this eco phone accessory will be good to have.

Eco Phone Case. Eco friendly phone case that is made from completely recycled materials.
Where Can I Purchase Eco Phones?
There are many different locations where you can purchase eco phones and their accessories. You can find eco phones and their accessories at local retail shops and at local home improvement shops. You can ask your in store sales person where to find eco friendly phones. If you cannot find what you are looking for you can search for eco phones online. There are many different online retailers that sell eco phones and their accessories. You can check popular sites such as Amazon and eBay as well as many other sites with green products and you will find many eco phones to choose from. Most eco phones and their accessories are very reasonably priced. You can get one solar charger for a phone for less than twenty dollars on some sites.
Getting an eco phone whether it be a cellphone or a home phone is a great idea. Not only will you save on your energy bill, you will help to save the environment. Even though it is just a phone, any decrease in the carbon footprint will help the Earth's environment become healthier. Consider purchasing an eco phone today.