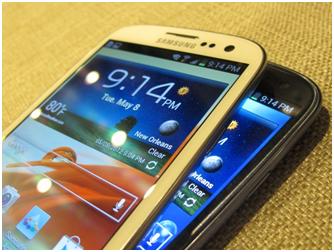 New Orleans, the next iPhone fighter from Samsung, Galaxy S III has finally being landed in the United States markets. The phone is currently under display in the CTIA wireless show but still, the final decision is waiting about its start of sales in the United States and how much it will cost Galaxy lovers to buy it. Samsung is displaying this new Galaxy S III in slight color variations- Pebble blue and marble white during its display show in New Orleans in current weak. With few minutes spent with this phone, reviewers were impressed by its ambition levels but not more praising its aesthetics.
Samsung's Galaxy S III has been cleverly packed with many new features that are not in minds of many users to be, but not confirmed whether this hand-on review handset was an industrial design or UI. Its screen, 4.8 inches is awfully large enough but it is not so much large as the Galaxy Note, with 5.3 inches screen. We cannot discuss that, because that was not. However, its large size is best to use when its pop-up play feature in action and you have to experience a new background style.
One of the new features which have been used in this new Galaxy S III, a pop-up window is displayed that can be easily dragged and you can use multi-screen browsing at the same time. When you launch a website along with few other applications and play a video movie, all these will work with video at pop up. When you will open the galaxy S III camera, a pop-up will open and your attention will be diverted to the opening of the camera, the same feature that has been used by Microsoft for its Windows 7. The Samsung Galaxy S III will never work slow according to its processor speed and any tap and input threw functions.
Its camera has also facial recognition features which are built-in with its own application but a little slick. This interface can identify any face or photo which appears in front of it. If your friend's photos are a bit blurred, this will automatically tag your friends in photos subsequently. If you have that person's email address to whom you want to tag or share a photo, it will provide linking of Facebook, LinkedIn, or Twitter profiles.
Galaxy S III has a voice dictation feature, S voice but it is not currently testing it in a loud environment. The Samsung user interface for Android has tweaks that are specific to this galaxy version.