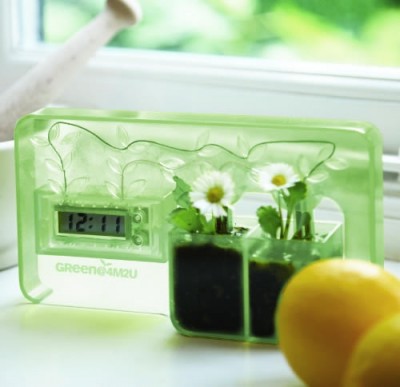 The Clean Energy Water Clock is a beautiful digital clock that uses water as a power source. There is never a worry over batteries running out with the clock, there is only a need to ensure there is enough water! It can even run from moist soil which allows you to grow small plants in the clock.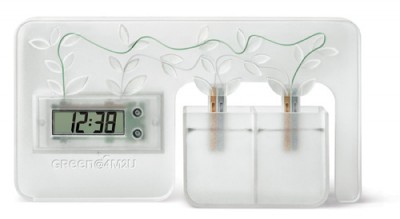 The Clean Energy Water Clock uses water to create electrical energy. It achieves this through an electrochemical reaction between the water and the devices electrodes, in a similar way to the potato clocks of old but in a more modern and attractive manner. The electrical energy that is generated is used to power the digital clock display.
The clock is so efficient that instead of filling the compartments with water you can fill them with moist soil and the clock will still be able to draw enough electrical energy to work. This allows you to be able to grow small plants, or to start off cuttings in the clock, adding a greener dimension to the clock.
The Clean Energy Water Clock is available in two colours, green and clear, and measures 18 cm x 3.7 cm x 9.5 cm (7.1 in x 1.5 in x 3.7 in). The water clock is an attractive way to keep time in an eco-friendly way, and makes an interesting feature to any room.
The Clean Energy Water Clock is only £9.59 too!