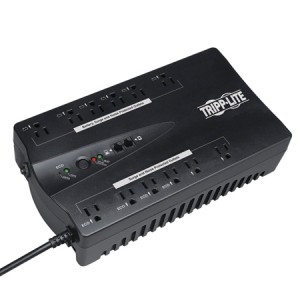 For those who don't know, UPS stands for uninterruptible power supply. It's essentially a power supply that will kick in if there's a powercut or brownout (causes lights to dim due to a drop in voltage). If you have expensive computer equipment, it can help deal with surges and brownouts, keeping your systems running and undamaged.
The Tripp-Lite Eco UPS gadgets have a 99% energy-efficient battery charging system as well as switching off peripherals plugged into the eco sockets when not in use.
UPS systems are renowned for being expensive to run, as they can waste a lot of energy as heat. Particularly in server farms, you'll end up spending more money just to cool the UPS systems down! The Tripp-Lite Eco UPS outlets have intelligent charging of the internal backup battery to increase the efficiency up to 99% (up to 15% more efficient than existing UPS outlets).
The UPS outlet exploits a connection to a USB-enabled computer to control the behavior of the UPS in the event of a blackout or brownout. The smart eco outlets will automatically switch off peripherals if the computer has been switched off.
On the larger model, there are 6 UPS protected sockets, 6 surge-only protected sockets, and 4 eco sockets. There are a total of 12 sockets on the power supply. It'd be nice to see more of the eco outlets on the UPS unit. However, it's a great combination of functionality that just fits.
Source: EcoFriend