"Bio Spectra" is a Canadian company devoted to producing Eco-friendly personal care products for domestic use. All their products are made from 100% natural ingredients for a safer and healthier planet. The range has been certified with by the "Eco Logo" certification from the Canadian government for maintaining the highest standards in Eco-friendly product manufacturing cycles. The range is also backed by a focus on tree plantation so as to offset any greenhouse emission during the process, making the product range carbon-neutral. All their products are free from toxic chemicals ingredients and are completely safe for domestic use. Their ranges of products are sold worldwide under the" Attitude" label and can also be purchased from their website (CleanAttitude.com). You can check out the list of stores by country from their site.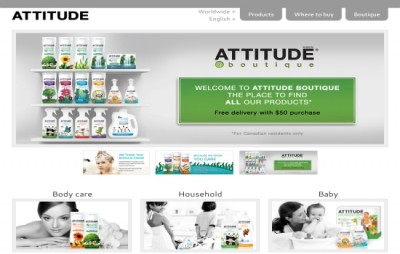 The range is free from Ethylated ingredients commonly found in personal care products which are deemed to be carcinogenic. These products are often added in low dilutions which are shown as harmless for humans.  However, the International Agency for Research on Cancer does classify products having 1,4-dioxane and ethylene oxide as carcinogenic and hence are harmful for users. The "Attitude "range is certified to be safe from such ingredients and the results are also verified by an independent laboratory. You can buy with a complete trust that the products are safe for you as well as for the environment
The Attitude range has products for Babies which include diapers, fabric care products, lotions, shampoos as well as handy wipes. These are made from natural ingredients which are 100% safe for your baby. Household products include dish, fabric and hand care products, surface clears and purifiers.  You can also shop from a broad category of personal care products which include soaps, body care lotions, conditioners, deodorants etc.