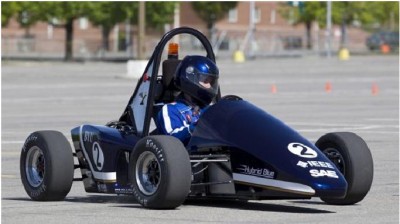 Engineering students of BYU have recently celebrated the success over their win for formula hybrid competition international 2012 at New Hampshire motor speedway.  This flashy blue hybrid made by engineering students of BYU made them to win the competition by 3 over 1000 points, so we can guess how stiff this had been made by new engineering additions.
BYU hybrid blue was developed by engineering students of BYU, whereas in this project 16 engineering students participated and spent 7500 man hours to build the electric and ethanol powered hybrid engine formula car, which not only took first position for its high efficiency of energy consumption and fastest possible speed but also in terms of endurance saving the 25 % of the power by sports vehicles.
Project sponsors have called it BYU 'hybrid blue' and it took 45 pounds of torque powertrain and 100 horsepower to achieve the winning endurance and acceleration.  BYU hybrid blue formula 1 is running on a combination of e85 engine which uses 85 percent of ethanol and gasoline blend. Based on eco-friendly features and other requirements of latest autos from GM, Toyota, Honda, Ford, BMQ were added in this new project designed car and it left even 75 percent of its electric charge even after 14 miles endurance distance covered. Engineering students of BYU who were working on this model decided to reduce its weight by 80 pounds and its length by a foot for accelerating the performance of the car.
For BYU students, this was not the first even achievement and winning of contest, it has been participating every year since from 2008 and it took three years to BYU for getting the winning title from 40 other competing universities which were taking part in this race.
BYU hybrid blue team was coached by Professor Robert Todd and this winning of competition was a great event for him because he is shortly retiring from this teaching career in engineering university. BYU hybrid blue car is using the efficient energy management system for its charging and even a low charged car you can run for the miles. Along with efficiency and performance features, car was designed accordingly to use the lower electric power because of its light weight and dimensions and competition winning by Hybrid blue is representing the real story of efforts made by BYU students. BYU is striving hard to improve their title with more revolutionary autos they are researching in their laboratories.