You may think it is an April joke? But it's a truth that Izhar Gafni has successfully developed a bicycle from cardboard and recycled materials. This cardboard bicycle has been made of recycled material and a $9 cheap, light, durable and strong eco-friendly vehicle. This news was made to headlines about invention of Gafni ever since he finished a functional prototype ready for large volume production of this cardboard cheapest bicycle.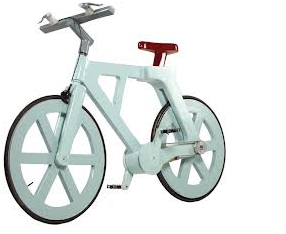 In this cardboard bicycle, there is no metal part from its brakes and wheels to the body frame. In fact what Gafni used is the recycled material like puncture-proof recycled tires of cars and bikes. There are many other recycled materials used in this cardboard bicycle which have not yet been revealed by the inventor. The Inventor, Gafni made an effective use of corrugated cardboard and applied specifically a formula of organic mixture to make this eco-friendly bicycle fireproof and water proof.
After first unit designed completely, Gafni immersed the cardboard bicycle section in deep water for many weeks to test the effectiveness of material and how much it would be durable and hard to bear the load and extreme temperature. This eco-friendly and recycled materials bike can carry a traveler up to 485 pounds of weight with him or her, with those principles which inventor has applied to make this double folded paper bike carrying double and triple weight to its own weight. According to Huff post Green, a cardboard bike like Gafni developed would be of 5 kilometer less in weight as compared to metal bicycles.
A most interesting thing about Gafni new eco-friendly bicycle is $9 cost per unit. The recycled materials along with assembling of the one whole unit took only $9 and it is predicted that this new bicycle will be available for sale at less than $20 in retail markets. The production, manufacturing and research costs have been totally cut down with Gafni mind-blowing skills and manufacturers will be able to add more to their profit along with great services for the community. The cost cut-down will also allow the big companies to drop their bicycles prices and willing to pay for putting their logo on the bike frames.
Nimrod Elmish, a business partner of Gafni told that new bicycle low cost will allow giving this bicycle as free in poor countries once they get enough sponsors for it. They have also planned for adding the disabled people along with pensioners, retired employees to work in its production lines and develop the cheap and environmental friendly cardboard bicycles. Gafni and Elmish plan to produce the cardboard bike in different versions. These include electric motor-assisted urban bikes, youth bikes, balance bikes, and even wheelchairs specifically for people in need in Africa.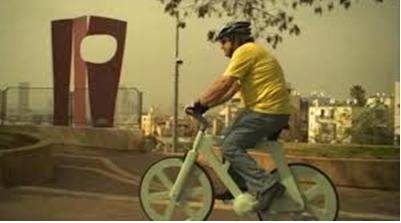 Gafni is of the idea that use of cardboard is even possible in aircrafts and cars, while idea would not be difficult to implement after first version f these bikes would been on our roads.