The practice of using wooden utensils and kitchen-ware dates back to the early ages when wood was used in a number of ways. This tradition continued through the ages with each country having its own distinct way of woodcraft. Ceramics, glass, metals, and plastics have graduallydisplaced wood amongst the choice of materials for normal kitchen needs. However an ancient wood crating technique from Europe (SuharRoba) is now being bought into prominence by Leis Inc which is a Slovenian based company manufacturing kitchen utensils from a locally sourced wood called leech. Leis aims at reviving this age old craft and bring it back to prominence in this modern age with their excusive range of  dining accessories which include a spatula, fork and a spoon which are individually handcrafted using leech wood. They come in a slightly curved shape for easy movement and also have an embedded magnet so that you can rest them on a metallic surface.This can be a unique and perfect gift for these coming holidays.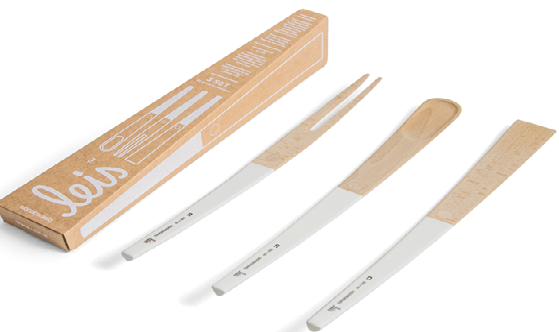 They are a perfect way to show your solidarity with the environment and can be used both for routine use as well as for banquets etc. You could also choose to gift them to your near and dear for this holiday season.
The 3 piecekitchen set costs €49 while a 15 piece set of Christmas ornament hooks costs €29. You can also purchase both of them for €69-packed in an attractive gift wrap.
SuhaRoba is an age-long craft of making wooden goods for domestic and kitchen uses.The craft was practiced in the Ribnica plain in Slovenia and was widely popular in the 15 century with goods being exported to Austria, Hungary as well as far off Africa and India.
You can purchase them online from the below site.
http://www.leis.si/