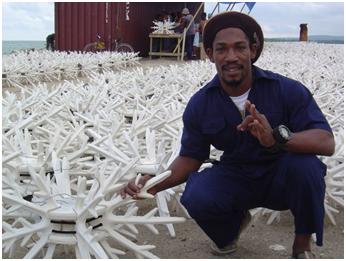 The coral reefs are suffering degradation from number of human and natural induced processes. Tackling the root causes of degradation through effective coastal management measures is likely to be best way forward for reducing damages and helping reefs to return to their health state back. There are also alternatives available for direct intervention to actively restore degraded coral reefs.
Ecological restoration is the process of assisting the recovery of ecosystem that has been destroyed, damaged or degraded and restoration includes passive or indirect measures taken to remove impediments for their recovery as natural they were, and taking direct or active steps where required for coral reef restoration. Currently, there is only a rudimentary understanding of the complex processes that contribute to natural recovery of coral reef systems from disturbance and it is difficult to assess what the most appropriate restoration actions might be. Criteria are needed which specify the degree to which an injured site might benefit from better management and/or active restoration.
Through coral reef restoration, we cannot recover the full corals. Active coral reef restoration has been carried out with some success at scales of up to a few hectares only.Undoubtedly, the ability of reefs to recover from warming events, tropical storms and other acute disturbances is profoundly affected by the level of chronic anthropogenic disturbance. Where reefs are healthy and unstressed, they can often recover quickly (sometimes in as little as 5-10 years). Such reefs can be described as "resilient" in that they "bounce back" to something close to their pre-disturbance state following an impact. Those reefs which have been affected badly by human activities found difficult to recover again.
One of the major problems associated with marine protected areas is ensuring marine ecosystems overcome issues regarding the baseline shifting. Unfortunately the conservation plans select the baselines that already presenting the disturbed state. So a continuous decline in ecosystem integrity has been found. A partial solution to this is restoration- which is conservation's active form. But the coral reefs conservation or restoration is not any easy task and takes longer period of time for corals to grow again, about 0.06 to 3.9 centimeter they grow in one year. Thanks to new eco-friendly products which have helped to recover our environment back. EcoReef has been on the market and it is showing to be an effective coral reef restorer that will work for coral reefs of Middle East and Red Sea.
EcoReef is rock structure of patented ceramic that is easily assembled together and anchored to the seafloor (. Their antler like shape mimics the stag horn growth of certain Acroporas while providing the foundations for algae and coral to colonize the structure and intricate channels to protect juvenile fish.
There are many benefits to EcoReef. First, the modules are made from ceramic, an ideal material because it is pH neutral, non-toxic and chemically inert in seawater. Although initially they may seem like strange "foreign" structures covering the sea bed, over time corals and other invertebrates fill in and overtop the structure to complete the living reef and amazingly recreate a natural setting (although not original) that attracts fish and restores an ecosystem in an area which has been sadly pulverized by blast fishing or scraped by trawlers.
It is estimated that with these ceramic structures the recovery time of pulverized reefs can be reduced from 50 to 100 years to just 7 to 15 years. This is extremely good news for marine conservationists.Second, EcoReef projects are highly cost-effective and relatively easy to scale and assemble on the field. According to the website, EcoReef provides more habitat for more organisms at a lower cost per organism compared to other common artificial reefs (tires, biorock, coral nubbins, rock piles) lowering per unit cost to $2.10 compared to $31.80 for tire reefs.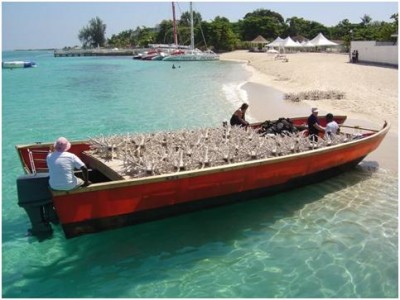 This superior performance is attributed to the high amount of useable surface area per EcoReef module (1.27m2) combined with the high suitability of ceramic for invertebrate settlement.Finally EcoReef are easy to assemble and transport in the sea using smaller and low- impact boats.
With combine efforts of EcoReef and Seacology for restructuring the reefs of Manado Tua Island in Far East which were totally wiped out in 2003 and then recovered since then again. Dolphin energy used the EcoReefs first time in Qatar in Middle East. This was started as a separate project regarding corporate social responsibility of Dolphin energy to restore the reefs locally. CEO of Dolphin Energy, Ahmed Ali al- Sayegh told that EcoReefs installation slow water currents and also shelter the small fishes which perform their duty to keep the coral alive and clean and also provide micro environment necessary for the success of coral growth and development. Dolphin CEO further told that his company is pleased to announce such system which will provide fast effective results for preservation of natural environment and providing marine life a new chance to recover and grow.
After this good news of EcoReef antlers for coral reef restoration, we must avoid a situation whereby solutions including EcoReefs legitimize reef destruction with apology that such reefs will be recovered by them easily again. This is evident that reefs which have been destroyed, especially due to human activities will never return back to their life. Although reefs may look healthy and recovered, they never grow as effectively as before. Many of the eco system process which will be associated with these systems will not be restored easily.
These Eco Reefs have been already installed in Qatar in United Arab Emirates and its use proved the fact that eco reefs recovered the Coral reefs in just 7 to 15 years instead of a long tidy time and efforts of 50-100 years. The marine life has been affected with chemicals wastes through in seas and oceans by production companies and more deaths have been caused due to such toxic chemicals, associating our success with death of other creature. Although this will be shameful news for human beings, they should recover the marine life like Eco reefs have been established in Gulf coasts.