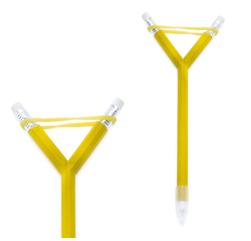 Katapult pen is a fun based gadget designed for those students who are mostly named as Backbenchers and who love to tease the other fellows in their class. Katapult pen is not only a nice looking pen, but it has been designed according to traditional catapults, which were used to fire bullets of clay or iron, for birds killing or playing with the other children.
Talking about Katapult definitely remembers and brings us to the days when we were small children and used to play with this weapon in open fields and sometimes in our homes also.  Now the things are getting smooth and soft to use because of technology which has changed the every aspects of human being and still many things are going to reshape in coming days.
Remember the days when you had to sit through whole day in college or school for study and stuff was really boring and hard to bear. School days are really interesting for every individual in his or her childhood and use of different small gadgets like Katapult was common in childhood. If any of us had to sit lonely on the back bench of the class, than it can easily be understood how much painful it was. But now students have many more entertainments things to enjoy in class, they can play with their calculators, painting the books or any other funny thing which they want.
Today, you will learn to know about a new fun based weapon, the Katapult pen, which is ready to fire weapon and really love to enjoy with it in the class. Students who sit on the back side of class have greater tendency to go prank with other fellows and this thin yellow Katapult pen will really an enjoyable gadget for them. This $4.99 Katapult pen will make the other writing pens pointless not only due to its beauty and writing style but also due to Katapult fun function which it can perform. All you have to do is to fold the rough paper and make bullet from it to hold in your Katapult pen and through towards your friends or fellows.
This Katapult pen which is made of rubber may need more pressure or power to exert for throwing small paper or rubber bullets packed in its rubber, but for short destination it will work best, although it will perform on long distance also if this would be made of metal.