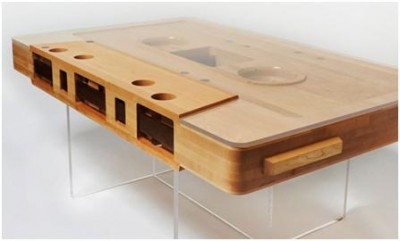 Recycling has become the only possible process to make use of old gadgets and all the wastes which may harm our environment and have been caught with high proportion of carbon footprints. Gone are the days when mix tapes made our hearts skip a beat – especially if the person you love spent their time choosing the best songs for you?
Now, helping us remember simpler times, designer Jeff Skierka came up with this interesting Mix tape Table – a coffee table made out of reclaimed maple, walnut and Lucite(transparent thermoplastic acrylic resin). Protected by a Plexiglas tabletop and supported by three simple transparent stands, the Mix tape Coffee Table is the result of the designer's "obsession" – it has been on his mind for 5 years.
Uniquely showcasing carefully considered details, the table is a 12:1 scaled replica of a cassette tape – a first prototype that will be transformed into a CNC- cut piece of furniture with a glass tabletop to be displayed in any residence. It can even be reversed to (dis)play either side A or side B. All we need now is a huge pen to manually rewind it.
This table has been fully disbanded, unsoiled and has been given the final finishing all over again. The iron gears of the cart have also been carefully reinstated and taken care of with a intermingling of wax. This steampunk coffee table displays the unusual factory stencil which appears on both sides. The body of the table, made up oak wood has been carefully polished, smoothened and conserved with wax to save the original character of the wood.
This table made of oak wood is extremely durable and sturdy and can be kept in a desired position.Many such pieces that were used earlier are now being discovered, and it is found that these pieces despite the mishandling and discarding for decades together have still remained undamaged and as equipped as the day they were introduced for the first time. Today these designs inspire a new generation of brilliantly creative individuals, who restore them, with their imagination and skill to create lively, innovative and eco-friendly pieces of furniture that greatly add to the charm of the interiors.