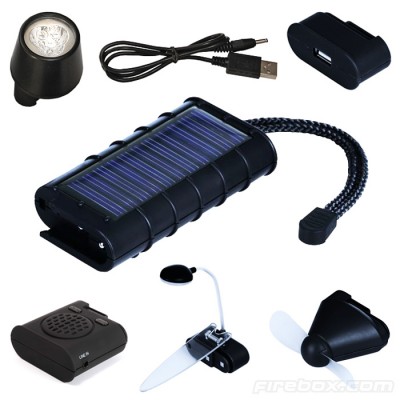 The A-solar 6-in-1 Charging Kit is a great multipurpose device to have on hand. With just a little forethought to charge the device, you can ensure you have power to light your way, listen to the radio charge or cool yourself with the fan all from eco-friendly solar energy.
The A-solar 6-in-1 Charging Kit is an easy to use multipurpose device, you simply click in whatever attachment you wish to use into the solar charge unit. The solar panel on the charge unit charges the rechargeable internal Li-Ion battery, which provides the power for the attachments. The battery requires around 12-15 hours of sunlight to fully charge, though it can be charged through USB in 3-4 hours when required. The device does require some forethought to ensure the battery is charged ready for use, it would be best to keep it in a bright spot to allow it to charge whenever it is not actively in use.
The Charging Kit comes with 6 attachments, a torch, a fan, a radio speaker, a book/reading light, a solar battery and a USB cable. The A-solar 6-in-1 Charging Kit is a handy device, a versatile item for all those who pursue outdoor activities who need devices to take up little room and that will not let them down, as long as there is sunlight to charge by.
The A-solar 6-in-1 Charging Kit is currently available for just £26.99 and includes free delivery.