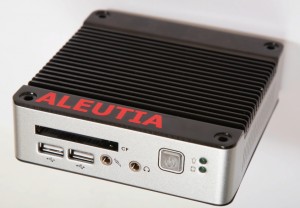 The Aleutia E2 is a fast little PC that uses just 8 Watts of power with a peak power usage of around 15 Watts when used with external USB hard drives. To put it in context, it has roughly the same power consumption as an energy-saving lightbulb. Many PCs and laptops draw around 300W and 200W respectively, so it's a huge energy saver. Its eco-friendly technology has been inspired by developing countries as an answer to remote and cheap computing.

I've grabbed my own one of these fantastic little gadgets, and they only cost around £230 (around $400 US). It's small form factor of just 11.5cm x 11.5cm x 3.5cm, weighing only 500 grams, and drawing so little electricity makes it a perfect candidate for my private web server for development work and home automation.
The low power consumption is largely due to a lack of physical drives (i.e. no CD/DVD or hard drive). The storage is based on a 4GB Sandisk Extreme III Compact Flash Card, which is used for the Ubuntu Linux operating system. I'm a big fan of Ubuntu, as it's one of the easiest to use Linux operating systems around. It also comes with a 500MHz ultra-low voltage processor, 1GB of DDR2 RAM, 3x USB2 ports, network port, sound card, and graphics adaptor!
The Aleutia E2 runs on 5V dc, so you could easily create a power adaptor for a car or caravan to use whatever power supply you have. Aleutia also offers a range of packages where you can get a monitor or solar panel kit in addition to the E2. With the USB ports, you can imagine a use involving Bluetooth or GPS, etc. You don't need to have any monitors plugged in to use it, as you could use the Aleutia as a console-only system, or just use VNC.
It's not quite fast enough to be used as a development machine, but it does allow easy web browsing and word processing. You might find multitasking a little slow, but a couple of applications are absolutely fine. In a nutshell, really a top kit!
More Info: Aleutia.com