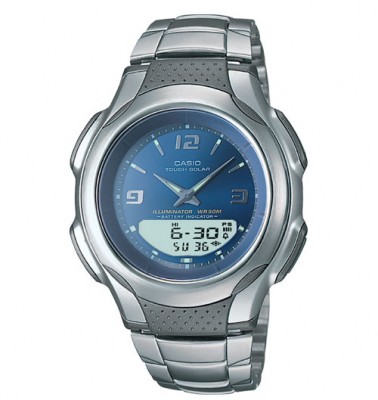 This Ana-Digi Solar Watch allows you to be able to see two times, or the time and the date, at the same time with its combined analog and digital face. The watch charges its internal battery through solar panels that are built into it, allowing you to have a watch that is always working when you require it.
The AWS90D-2AV watch by Casio combines form with functionality. This aesthetically pleasing watch has a classic design, the watch face is a calm blue that compliments the metal of the surround and watches band. The analog face features clear hour and minute markers to allow quick and easy time reading at a glance. The digital face can be set to display a different time or date with the day of the week.
The watch features a stopwatch ability that allows you to time events using its elapsed time setting. The watch can also have an alarm set on it and can give an hourly time signal. The watch has an automatic LED light which has afterglow technology to illuminate the watch face at night allow you to easily read the time. The watch is water-resistant up to 50 meters (164 feet).
The watch uses Atomic Timekeeping Technology which allows it to receive calibration signals to allow it to keep accurate time. This ability coupled with its use of solar power frees you from many common worries about watches, those of setting the time, checking its accuracy, or worrying about the watch battery. The amount of charge left in the battery is displayed to help you know when the watch will require some sun exposure to recharge. The watch also features a power save function and can last around 11 months from a single full charge.
The AWS90D-2AV Solar-Powered Watch is just $34.99 and qualifies for free shipping too!