Suaoki has launched a 40watt solar laptop charger that gives solutions for all your travel problems like dead phone, dead car battery, or no charging points while on a road trip, business trip, or just a holiday. This versatile portable solar array comes with Mono-crystalline Solar Panel that can charge almost all USB charging devices like GPS phones, laptops, a tablet with its 5V Output Charger, and other DC output till 18 V for a car or boat batteries.
How Suaoki Solar Laptop Charger works?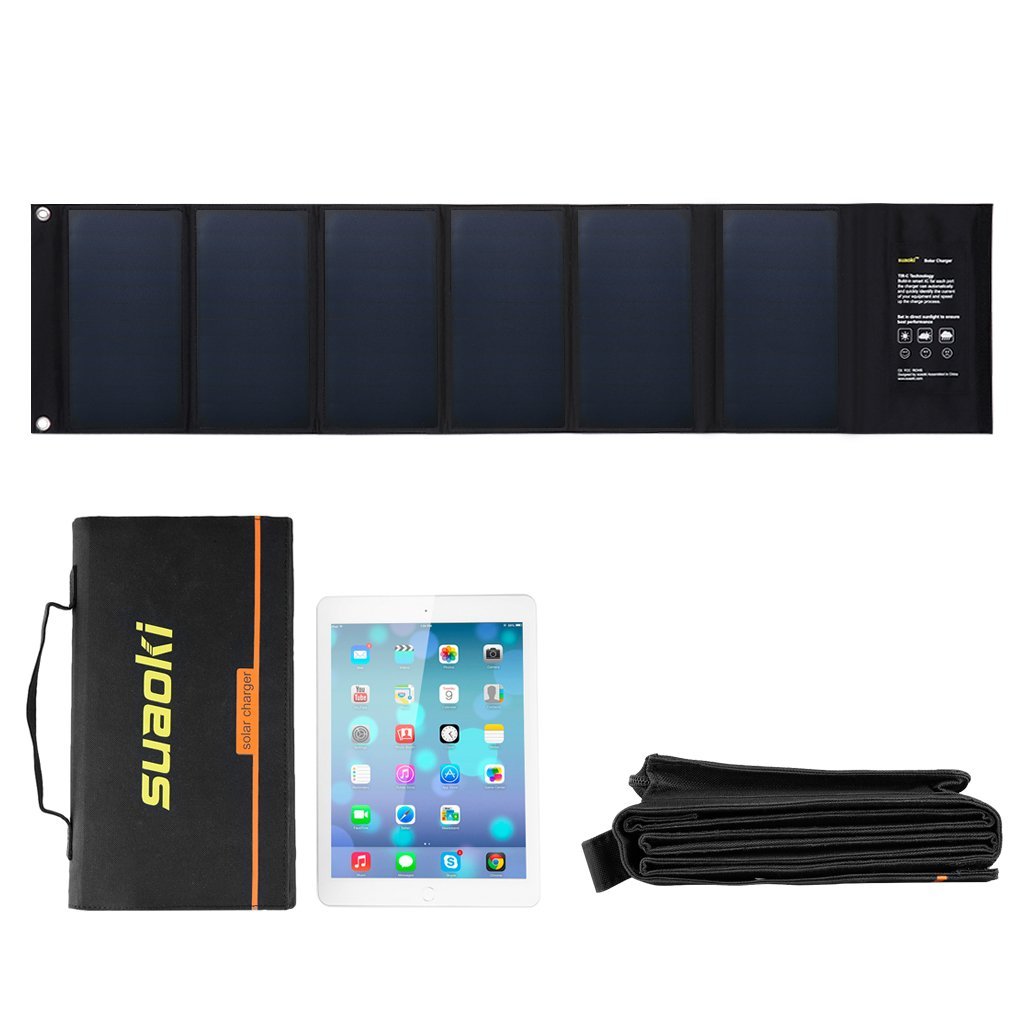 Suaoki Solar laptop Charger provides you electrical power at all times and that too anywhere. It comes with a 5.5 x 8mm barrel adapter and a dual-port output that provides enough power that can charge not only your USB charging devices like mobiles but also other DC output Up to 18 V at the same time like your car or a boat battery. This 60-watt solar array also has a 12V 5A Battery Charge Regulator to control the voltage in case it has been applied to batteries that could be a bit risky if left unconnected after they're fully charged. It has a TIR-C technology (intelligent chip) which charges your electronic devices with its build-in smart IC for each USB port the charger automatically identifies the current of your equipment to speed up the charging process. With a full sunny day, this charger can give a maximum output of 40w and approx 2.0 amps at either the 18v or 5v USB ports.
Key features of 40W Suaoki Solar Laptop Charger
The amazing portable solar charger can be used near a swimming pool or beach as it comes with a Waterproof layer of the Output pocket and the solar panel.
It is handy as it's designed to be carried out easily be it hiking, traveling, or boating with its quad-fold design that can be folded to bag size and comes with a zipper pouch that is large enough to hold all its accessories.
Can be used to charge any battery bank or storage cell with the help of its additional accessories.
Comes with a dual-port output with specifications like DC 18V/2.2A(Max) & USB 5V/2.1A
Very light Weight
The solar panel uses sunlight for charging
Comes with 12V 10A Battery ring terminals that avoid short circuits, sparks and make it safe to use.
[ View this Eco Friendly Charger on Amazon.com ]
Pros and Cons
Pros
One year warranty
Comes with 10 in 1 connector with DC cable
Comes with 40W Foldable Dual-Port Solar Charger bag
Includes SAE-to-Clamp for Storage Battery
Highly portable
Water-resistant
Safe to use
Comes with a long extension cord
Great compatibility
Cons
The solar panel is influenced by sunlight only and not constant voltage.
It's not completely waterproof
Package contains
1 x 40W Foldable Dual-Port Solar Charger bag
1 x Car Charger
1 x 10-in-1 Connector Cable for Laptops
1 x SAE-to-Clamp for Storage Battery
2 x DC-to-DC Cables
1 x DC-to-SAE
1 x User Manual
[ View this Eco Friendly Charger on Amazon.com ]
Conclusion
An efficient highly portable solar charger that makes life quite easy while you're on a road trip or enjoying your day out with family. You don't have to worry about charging points and just need a sunny day to get your devices going. At a reasonable price, Suoaki has come out with this smart and easy way of charging all kinds of devices anywhere.