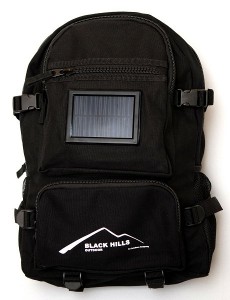 The Black Hills Solar Charger Rucksack is a spacious and lightweight 25-liter backpack that features a solar-powered charger built into it. The Black Hills Solar Backpack uses sunlight to trickle-charge the internal Lithium battery. The charger can then be used to charge all of your gadgets, such as MP3 players, mobile phones, PDAs, etc.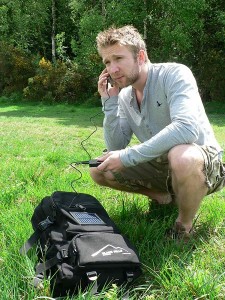 The solar panel on the backpack delivers a maximum output of 6V at 120mA, and the battery delivers a maximum output of 3.7V at 800mA. In strong sunlight, it takes around 10 to 14 hours to fully charge the internal battery. However, if you want to top up the internal battery, you can do so with the provided USB cable or AC adaptor. Using the USB or AC alternative, you can charge the internal battery in just 2 hours.
The backpack will fully charge most devices in around 2-3 hours. The bag comes with 17 essential adaptors, which covers the majority of gadgets. The bag also features a headphone port, presumably so that you can keep your music play in your bag and plug your headphones in from outside the bag.
The Black Hills Solar Charger Rucksack costs around £49, with free delivery in the UK. Looks like this bag is a great combination of quality and features, and it easily beats other solar-charger bags that I've seen!
Source: Eco Travel Gadgets