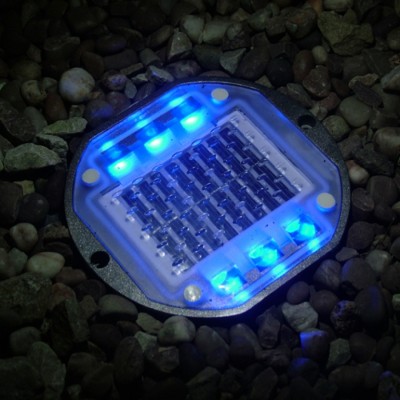 The Blue Solar-Powered Path Light uses two lines of 3 LEDs to provide a powerful blue light that can add extra safety to your outdoor areas or highlight a feature. The strong and durable light block can be used to light up pathways, decking areas, driveways, and can also be used submerged in a water feature.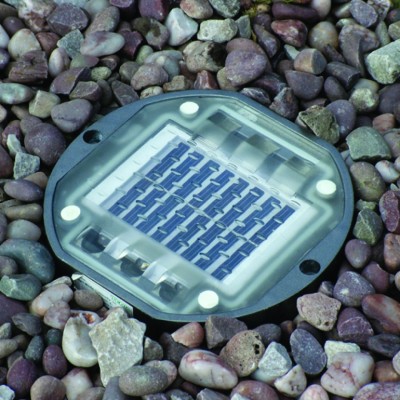 The Blue Solar Powered Path Light automatically illuminates once dusk falls, it is a self-contained unit with lights, solar panel, and battery inside that is designed to be set into the ground or into decking. The light consists of two lines of 3 LEDs that produce a bright and powerful blue illumination with an efficient solar panel set in the middle of the unit between the two rows of LEDs.
The electricity produced by the solar panel is stored in a high-grade Ni-MH rechargeable battery within the unit which has a capacity of 1800 mAh. When the battery is fully charged it should be able to provide lighting for around 80 hours. This ability helps to make the device suitable for lighting an area for safety such as used on mass to light a long dark driveway as it will function for days without light.
The Blue Solar Powered Path Light is able to be used to light any outdoor feature and can be submerged in water up to a depth of 1 m (3.3 ft). The blue illumination the light provides helps to produce a beautiful lighting effect to make the most of any feature, especially one involving water. The unit is set in stainless steel with a strong plastic cover over the LEDs and solar panel, this allows the unit to be able to withstand a 16-ton moving weight once it has been set into the ground and be dust and weatherproof.
The Blue Solar Powered Path Light allows you to effectively light an area for safety and for aesthetic reasons quickly and easily. Due to using solar power, the light requires no complicated wiring, nor does it incur any long term running costs. Used with additional units the lights are an effective way to light any outdoor area without causing a drain on your energy bill.
The Blue Solar-Powered Path Light is yours for just £34.99.