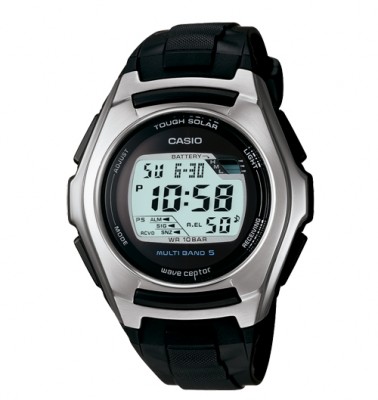 The Waveceptor WVM120J-1 is a water resistant watch designed to be of use to a wide variety of people. The watch uses solar power to keep the internal rechargeable battery charged.
The Waveceptor WVM120J-1 Watch by Casio comprises a tough, water resistant digital watch face attached to a resin band with a traditional buckle fastening. The watch has many functions that allow it to be useful to everyone, from a businessman to a diver. The watch has the ability for you to set up to 4 daily alarms and a snooze alarm. The watch has a world time function and  it also includes a stopwatch function which can record elapsed time, lap time, split time and 1st-2nd place times. The watch has a built in calendar and features afterglow technology to allow you to clearly read the time even when its dark.
The watch uses Atomic Timekeeping Technology. This allows the watch to receive calibration signals regularly to keep the watch accurate at all times. The watch is water resistant to 100 meters (33o feet) which frees you from any worries over getting the watch wet or wearing it around water. The watch displays how much charge is left in the battery to inform you of when the battery requires the watch to have more sun exposure to allow it to recharge. The watch has a power save function, and can last around 8 months from a full charge.
The Waveceptor WVM120J-1 Watch by Casio is available for just $34.95 plus delivery.