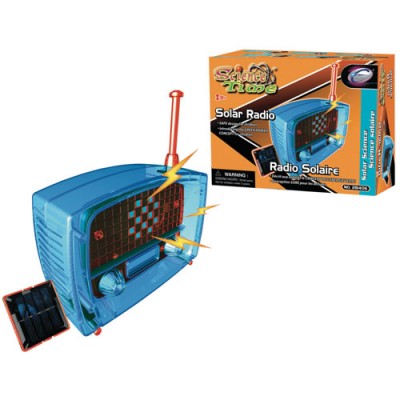 The Solar Powered FM Radio Kit allows you to teach children about the eco-friendly energy source of solar power in a fun and engaging manner. The kit creates a fully functioning FM radio that has been designed to be bright and appealing to children.
The Solar Powered FM Radio Kit comes in kit form, in 16 different parts. It includes detailed instructions to help construct the radio, learning as you go about how it all interlinks and about how solar power works. Once constructed the radio just needs light to work. The solar panel will need placing somewhere with bright sunlight, though artificial light may also work it if needed.
The radio kit helps to teach children through play, by being supplied in the kit form it helps them to get involved with the radio which helps to encourage them to learn about it and increase their interest. Once made the radio can be used as a normal radio, either by placing it somewhere in bright daylight to be powered continually in an eco-friendly manner to help reinforce the lesson of the benefits of renewable energy or it can be powered by two AA batteries. This allows it to be a functioning radio even at night.
The Solar Powered FM Radio Kit costs just £14.95.