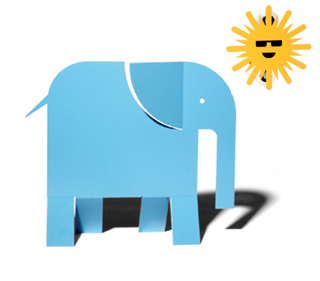 This Elephant Shaped Night Light fills a room with a warm glow of light to help comfort and reassure a child during the night. By using solar power, it removes the need for having a light switched on all night, or wasting any batteries.
The Elephant Night Light is constructed in a friendly non-imposing shape specifically for children. The friendly blue elephant standing strong and proud with a sleek simplicity to its design and appearance. The solar panel used to power the night light has been built into the back of a friendly sun-shaped piece that requires attaching to a window that is exposed to sunlight. The energy captured can then be used to power the LED tea light that glows behind the elephant once dusk has fallen.
The device measures 20.5 cm x 23.5 cm (8.1 in x 9.3 in) and is made of mainly recycled steel and it can be recycled itself. The steel used has been finished with a coloured powder coating. The Elephant Night Light comes with full instructions to set it up and includes the connecting cable for the sun solar panel to the LED tea light. Though the sun can be set away from the elephant and is meant for use stuck onto a window, the sun-shaped piece could be positioned with its solar panel facing up on a sunny flat spot. By doing so some of the aesthetics of the sun piece would be lost. There is some restriction to where the light can be placed to ensure the cable can reach from one piece to the other while allowing the solar panel to take advantage of any daylight to charge.
The Elephant Night Light is available for just £25.99 plus delivery.