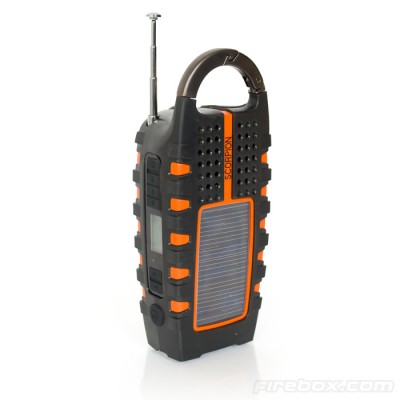 The Eton Scorpion is a multifunctional device best suited to those who like outdoor activities. The Scorpion combines an AM/FM radio and LED torch with a USB charger for your portable electronics within its robust splash-proof exterior and even includes a bottle opener. The Scorpion can draw power either through its large solar panel or from you turning its wind up/crank handle.
The Eton Scorpion is a useful multipurpose device for anyone who likes to go camping, hiking, caravanning, or just likes the safety aspect of having such a device. The device has a built-in AM/FM radio to keep you informed of the latest news, weather reports, or just so you have some music to hand. It features a LED flashlight to provide you with a light source that is ready for use at any time, be it to light your way or attract the attention of a rescue party.
The Scorpion is a robust device, covered in a rugged exterior skin to protect it from any knocks and bumps. The device is also splash proof to allow it to be safely used in the rain. The internal battery can be charged in two eco-friendly ways, by leaving it in a sunny spot with its large solar panel facing up it can charge from the sun or for cloudy days or for a more immediate effect it's inbuilt crank/wind up handle can be used to provide energy.
This energy can be used not only to power the torch and the radio but also to charge any of your portable electronics through its USB port. This allows you to ensure your mobile phone is always in power in case of emergency, or that your camera always has enough charge to take pictures when you want them most. The Eton Scorpion is a great multifunctional tool to have around in a car or backpack and due to its use of eco-friendly energy sources, you have both peaces of mind that it will provide you with power when you need it most while not harming the environment.
The Eton Scorpion is yours for £49.99 with free delivery.