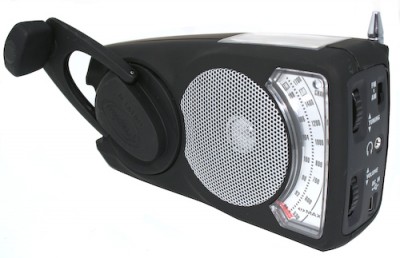 The EyeMax is a multi-powered radio by Freeplay. This FM/AM radio can charge itself from both its solar panel and from a windup handle. By having both methods it ensures you can listen to your radio shows at any time without any worry of running out of power and always from an eco-friendly source.
The EyeMax has a solar panel on the top of it as well as a wind-up handle to allow you to self-power the device for days where the sun is lacking or for when you have forgotten to leave it in a sunny spot. This ensures you always have electrical power for your radio from a sustainable source. The radio can provide you with 35 minutes of playtime from 30 seconds of winding the handle. The radio has an LED indicator light to help guide you to the most efficient speed for winding the device. When fully charged the radio can provide you with 25 hours of playtime.
Along with its function as an AM/FM radio, the device also has a built-in LED torch light, providing you with a bright light for a small amount of electrical drain when needed. The EyeMax radio measures 6 cm x 11.2 cm x 18.6 cm (2.6 in. x 4.4 in. x 7.3 in.) allowing it to be easily portable and suitable for traveling wherever you want to take it.
The EyeMax Wind Up Radio is available for just £35.99.