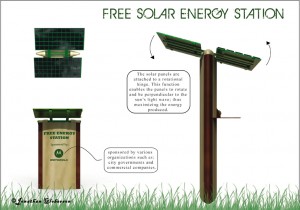 The Free Solar Energy Station is a concept that is made for open public and commercial spaces, such as city centres. The solar station would allow anyone to charge up their mobile phones, MP3 players and other gadgets for free using the USB sockets on the station. The station is made from solar panels, recycled batteries, sustainable bamboo and recycled metals.
The solar panels have been designed with hinges so that they can be moved into the optimal position to get a high exposure to sunlight. The solar station has been also designed with reuse in mind, as well as being eye catching. The solar station promotes alternative energies, using the temptation of free energy to grab people's attention.
Details of the solar energy station can be found on Jonathan Globerson's Coroflot profile.