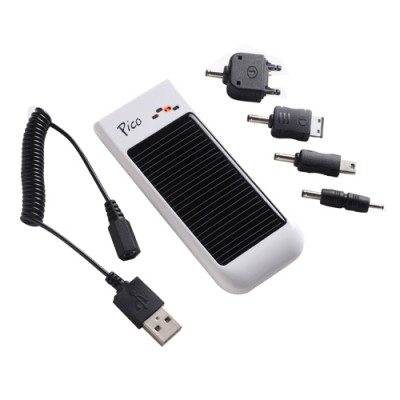 The Pico by Freeloader is a portable solar-powered charger designed to charge mobile phones, iPods, GPS systems, and most other portable electronic devices. The Pico has advanced solar panel and battery technology to help provide a quick charging time for the device's internal battery and a quick time for it to deliver the power to the portable electronic device connected to it.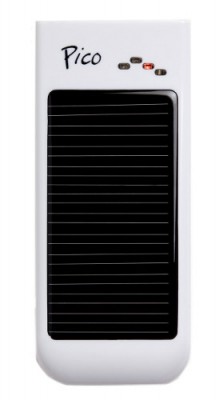 The Pico is quite compact measuring 10.5cm x 4.5cm x 1.2cm (4.1in x 1.8in x 0.5in) and has a lightweight of 49g. The device has been designed to be portable to allow charging of other portable electronic devices whenever and wherever needed, be it stranded on an island or at home.

The Pico comes with a connector for Sony Ericsson phones, a Mini USB connector for smartphones, PDAs, GPSs, Blackberrys, etc, a small tip Nokia connector, and a Samsung connector. More connectors for other portable electronic devices can be brought in addition to this.
The solar panel is comprised of 75mA crystalline solar cells that charge the 800mAh Li-ion battery within the device. The battery takes around 10 hours to fully charge when empty and has been designed to charge in all daylight conditions. The Pico does come with a USB cable to allow you to charge it from a USB port if needed, meaning that you could then charge it from your laptop or computer if you need power quickly. It takes only 3 hours to fully charge the device from empty by USB.
With a full battery, the Pico Freeloader should be able to power portable electronic devices in about 30 minutes. This should then provide a mobile phone with around 35 hours of power, and iPod with around 14 hours of power, and a GPS system with around 1 1/2 hours of power. The Pico has indication lights built in which show how much charge is left within the battery and also has a solar charge indicator to help find the best position to charge it in.
Pricing for the Freeloader Pico solar charger starts at £16.95.
[ecu size=" small"]34875[/ecu]