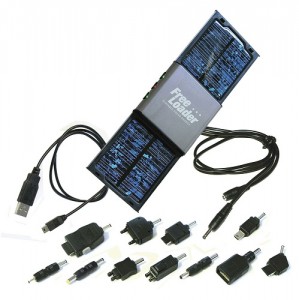 Got loads of portable gadgets? Finding a charger for all of your devices can be hard work, as they all have different adapters, voltages, and current ratings. However, the Freeloader Portable Universal Solar Charger allows you to exploit the sun's energy to charge all of your devices since it features the adapters needed to charge pretty much all common portable devices. The Freeloader can charge phones, game consoles, MP3 players, PDAs, digital cameras, 2-way radios, and Bluetooth headsets!
The Freeloader contains an internal 1000mAh Li-ion battery that can store its charge for up to 3 months. To give you an idea of the battery's capacity, when fully charged, it's capable of powering an iPod for 18hours, a mobile phone for 44 hours, a PSP for 2.5 hours, or a PDA for 22 hours.
The charger comes with 11 charger tips, which allow the charger to charge so many devices. The Freeloader also comes with a USB charging lead, which allows you to charge the battery in just 3 hours using a computer, which would otherwise be 8 hours in good sunlight.
The Freeloader Portable Universal Solar Charger is available for just $49.99.