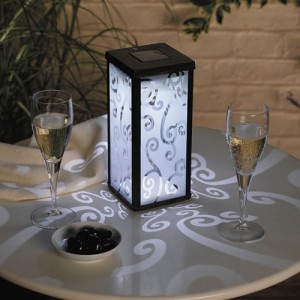 We've all seen the rather bland solar-powered lights for the garden. Usually, a black or silver post with a faint glowing LED light mounted at the top. If you fancy something that looks far more attractive, then the Frosted Scroll Solar-Powered Lantern might be of interest. The lanterns have an internal battery that's charged via the solar panel, giving you a maximum of 8 hours of bright white glow per charge.
Rather than coming on automatically, these lanterns have an on/off switch, which means you can turn them on when you want them on. Perfect as a wind-resistant alternative to candles for a romantic evening dinner outside. The scroll-effect frosted windows and the antique-style appearance give the lantern a touch of elegance to solar-powered lighting.
The lanterns measure 10cm (w) x 22.5cm (h) and come as a pack of 2 for £29.99. At the time of writing, the lanterns are available at a special offer price of £24.99.