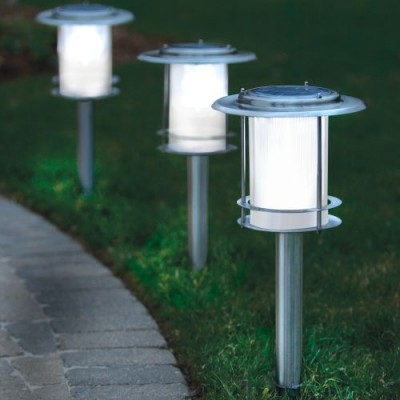 The Solar Powered Walkway Light offers a bright, white, long-lasting lighting option for gardens. Designed to be used to mark out pathways, walkways, or to light up a garden feature, the light uses solar power to provide illumination after dusk.
The Solar Powered Walkway Light provides any garden with a beautiful, modern looking lighting solution. The 100% stainless steel light-frame helps to enhance the pure white aesthetics of the lighting, the light uses polycarbonate lenses around the 2 LED lights within. This combination helps to offer a truer white light than many other garden lighting solutions. The construction materials for the light help to ensure it is safe and fully operational at all times, able to withstand the worse the weather can throw at it.
The solar panel is incorporated into the top of the light, the size of this panel is slightly larger than many similar walkway lights, this helps to ensure that the rechargeable Ni-Cad batteries charge fully during daylight hours. When fully charged, the batteries should allow the 2 LEDs to provide illumination for up to 8 hours.
Some thought must be given when placing the light, it is designed to allow it to be staked into the ground anywhere but it must have access to daylight to charge. Placing the light in a spot that receives direct sunlight would ensure the light can illuminate your garden for as long as possible automatically when dusk falls.
The Solar Powered Walkway Light can provide bright lighting for any garden, to ensure safety by lighting up a pathway or to simply illuminate a garden feature. The light can provide lighting each evening without any concerns over long-term running costs nor will it cause any hassles with the wiring during installation. The modern style light uses eco-friendly energy to help you light your garden worry-free.
The Solar Powered Walkway Light costs just $69.95 each.