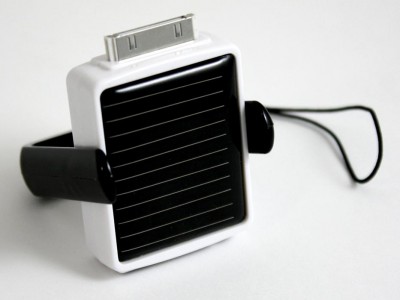 The Juicebar Pocket Solar iPhone Charger allows you to provide an environmentally friendly boost of electricity to your iPhone or iPod. This small solar charger can produce a significant boost to these products quickly, its size making it convenient to be taken wherever you go to allow you an emergency top up anywhere.
This Juicebar Pocket Solar iPhone Charger like its larger sibling, the Juicebar, is an efficient charger than can top up your iPhone and iPod quickly when you require it. The compact charger's solar panel charges the internal rechargeable 550 mAh Li-Polymer battery.
The Pocket Juicebar battery requires around 12 – 15 hours of sunlight to be fully charged. It can be charged through a USB if required, the battery will be fully charged in around 2 hours when recharged in this manner. The charger can top up your electronic device in around 2 hours, when fully charged the charger will supply the device enough electricity to provide you with up to 4 hours of talk time or 17 hours of music.
The charger comes with a foldaway stand that can allow it to be best positioned to take full advantage of any sunlight available. When the stand is folded the charger measures 4.15 cm x 5.4 cm x 1.45 cm (1.63 in x 2.13 in x .57 in) and weighs only 42g. This allows the charger to be portable enough to be taken with you wherever you go to ensure you always have the ability to top up your charge anywhere.
The Juicebar Pocket Solar iPhone Charger is yours for just £12.95.