Here is a unique charger that can be powered both by solar power as well as by wind energy.  The gadget has a built-in solar panel which coverts solar energy into an electric charge which can be used to charge your mobile phone, iPod, camera  etc. A mini turbine mounted on the top rotates when placed against the wind and turns an internal dynamo which again generates electricity. The rechargeable internal battery of the gadget  can also be charged by a normal ac charger.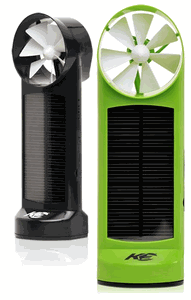 The gadget is quite useful when you are travelling, trekking or camping. It's one of a very few portable gadgets which charge by wind energy and is a perfect alternative to conventional charges, especially when you have no access to electricity. The gadget can be arranged on your motorcycle or jeep so that it directly faces the wind while you are driving.  Under standard conditions, an hour of sunlight and a sufficientlystrong wind should charge your  phone for about 30 minutes of talking.
The device has an USB port which can be used to connect it to an external power source such as from a computer or a vehicle power outlet. It also comes with a mini and micro USB tip making it useful for a vast variety of phones. A built-in LED power indicator shows the current power status
The K3 Solar and Wind charger is priced at $99.95 and can be purchased from the below link.
http://www.earthtechproducts.com/k3-solar-and-wind-charger.html
Dimensions: 3 Inches in Length, 3.1 inches wide and a height of 9.3 inches
Color: Green and black with a white mini turbine
Weight: 10.6 Ounces
Battery specifications: Rechargeable Lithium ion cell (4000mAh) DC output- 5V 1amp 5W
The package includes a the K3 Solar and Wind Charger gadget, multiple device tips, USB cable AC Wall Adapter, a handy drawstring bag and a user guide.